Hot Vinyasa Yoga
This class is taught by: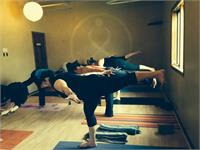 As a consummate student, Teresa is in a constant state of becoming and as such, she believes in the transformational process that resides within all of us. In addition to her bead creations, and workshops, she is a yoga instructor who obtained her 200 hr and 100 hour certifications through Yoga World Reach. Teresa has attained BA in English and Religion respectively. Through her many paths, Teresa discovered the undertone to her purpose has always been, how can I help, what can I learn and how can I teach it?
Practiced in a room heated between 95° and 105° F, this vinyasa class is focused on alignment and strengthening postures.
This is not a beginners class, please speak with a staff member before attending. Please come hydrated and bring your own hand towel.
Upcoming classes: