Anna Zach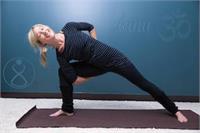 The first time I experienced yoga it was like finding a place called 'home'. I was taken back to summers past of playing with my big sister at my grandma's house among avocado and lime trees, summers of backbends, cartwheels, handstands and splits. I was taken back to the fun and joy of play. I said to husband that night, "I was made to practice yoga." So my journey began. Through my practice, I have discovered joy, stillness, delight, depth, connection, laughter and am constantly learning to be at home in the present moment. As a teacher it is my honor to share the joy of yoga and journey with others into their moments of discovery. And, I love to laugh and play along the way!
When I'm not on the mat, I still love to laugh and play…with my sweet loving husband and son.
Anna Zach is currently not instructing any classes.