Meghan Frickel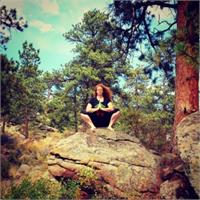 Meghan has been in love with yoga since she was 12 and always knew that she wanted to be a teacher. In 2008 she was pursuing her art degree when she became a mother. Becoming a mother led her on a journey to self-discovery with the help of meditation. Soon after, she began leading guided meditations. She loved it so much she knew she was finally on the right path. In 2012 she started Yoga Teacher Training and became a 200-hour RYT. She is a Registered Prenatal Yoga Teacher through Yoga Alliance, a professional birth doula, a fine artist, and a Reiki Master. Always the student, she is currently working on getting her 95-hour Registered Children's Yoga Teacher certification and is working towards her 500-RYT. She loves sharing her enthusiasm for meditation, yoga and self-discovery. She believes that we are always becoming, always creating and always on the right path... the path of love.
Meghan Frickel instructs the following:
Yoga Nidra in sanskrit means divine sleep. This is a reclined guided meditation that is known to promote deep brain relaxation states, decrease stress, increase intuition and cognitive functioning. Enhance your well-being and self-healing capacity.