---
Upcoming Events
FREE COMMUNITY YOGA
Sunday, August 6th
3-4PM / Studio 1
first Sunday of each month
FREE GROUP MEDITATION
Thursday, August 3rd
w/ Prem & Nan
7-8PM / Studio 1
first Thursday of each month
FREE INDIAN COOKING DEMO
Thursday, August 10th
w/ Mahak, owner of Suji
7-8PM / Studio 4
second Thursday of each month
TEACHER CERTIFICATION MEETING

Saturday, August 5th 11:15am-12:15pm
200 HR and 300 HR
Sept. 2017 - May 2018
Apply Today!

SATSANG
Saturday, August 5th

w/ Cathy Pompeo
7-8:30pm / Studio 1
YOGA NIDRA

with

SREEDEVI BRINGI
Thursday, July 20
w/ Sreedevi Bringi
7-9PM / Studio 1
Learn More Here


MANTRA YOGA with SREEDEVI BRINGI
Monday, July 17
w/ Sreedevi Bringi
7-9PM / Studio 1
Learn More Here
VIEW FULL CLASS SCHEDULE
HERE
.
See and sign up for workshops on our workshops page.
View Teacher Training page here.
---
---
LOG IN TO YOUR ACCOUNT BELOW
---
Click Here
to login to MindBody Scheduler!
This will allow you more ease of use from your desktop computer, all in one convenient location!
View complete schedule of classes and workshops

Make a reservation for yourself & a friend/family member

Make a single reservation or recurring reservation

View/edit your profile and account information

Purchase Memberships, Class Passes, Gift Cards
Take 5 Certification
with Sheila Palmquist
Saturday, August 5th
1-4PM / Studio 1 / $89
Developed and taught by Sheila Palmquist, TAKE 5 was designed to help students, teachers, and parents learn to self-regulate and navigate the demands of our ever-changing environment. This comprehensive program enables us all to better understand and take control of violence and aggression. This program includes three hours of training. Curriculum manual included.

TAKE 5 partners with Lincoln Parks & Recreation and select elementary schools to promote yoga and mindfulness to young children.
Click Here to Reserve your Spot!
Yoga Teacher Training
300-Hour (500 RYT) and 200-Hour through Yoga Alliance
Lincoln Yoga Center is a Yoga Alliance Registered School. We are Lincoln's oldest yoga studio, offering 300-hour and 200-hour Teacher Trainings. Already certified as a 200-hour Teacher? Become a 500-Hour Registered Yoga Teacher with our 300-hour program. Continuing education hours for currently certified yoga teachers offered year-long. Email LincolnYogaCenter@gmail.com to learn more.
---
---
300-Hour (500 RYT) Teacher Training 2017-2018
Deepen your experience, understanding, and skill of yoga. This program meets the 300-hour training requirements for Yoga Alliance registry. Topics in this category could include, but are not limited to: advanced asanas, pranayamas, kriyas, chanting, Sanskrit, mantra, meditation, advanced anatomy, neuroscience, Ayurveda, and other traditional yoga techniques. These hours must be a mix between: 1) analytical training in how to teach and practice the techniques, and 2) guided practice of the techniques yourself. Upon completion of our program and your registration with YA, you will be a 500-hour Registered Yoga Teacher!
LYC 300-Hour Yoga Teacher Training (500 Registered Yoga Teacher Certification)
Please note, this is a 300-hour program for those who have already completed their 200-hour certification. After completing this 300-hour program, you will receive your 500-hour RYT from Yoga Alliance.
Requirements: 200-Hour Certificate from a Yoga Alliance Accredited Program (RYS). You do not have to be registered w/Yoga Alliance
Attendance: We will meet Saturday and Sunday 9-6 with an hour lunch break. September-May 2017/18 exact dates to be announced. You have 3 years to complete the program. You must attend these required modules:
Techniques, Training and Practice w/ Sheila Palmquist (Sept. 9 & 10)
Pranayama and the Secret Powers of Yoga w/ Nischala Devi (Oct. 21 & 22,

with optional Oct. 20

) in Omaha
Yoga for Mental Health & Trauma

(Nov. 11 & 12)
Safely Teaching Advanced Postures

(Dec. 2 & 3)
Developing Healthy and Peaceful Heart w/ Susi Amendola (Jan. 27 & 28)
Advanced Yoga Anatomy w/ Amy Matthews (Feb.17, and 18, with optional Feb. 16) in Omaha
Sanskrit w/ Prem Sadasivananda (March 24 & 25)
Yoga through the Scriptures w/ Kimberly Byer-Nelson (April 14 & 15)
Meditation and Neuroscience

(May 5 & 6)
Practicum: (5 hours w/Sheila Palmquist) 15 hours w/ assigned Mentor
*Subject to change. We cannot guarantee the same instructor can present the following years. It is in your best interest to complete these weekends this year.
The rest of the 110 contact hours: Customized by you for you.
We will offer many workshops at LYC, subjects to include: Yin, Restorative, Prenatal, Kids, Ayurveda, Etc. Let us know your subjects of interest. You will receive 20% off of LYC workshop prices. You may attend a 200-RYT weekend (open to the public), which will get you 20 hours.
You can attend workshops/trainings with other schools/studios. Subject to approval by Sheila Palmquist.

You can attend LYC 200-hour Teacher Training modules.

*Prenatal and Children's Yoga Certification Programs are separate and do count towards you 300 hours for your 500-RYT. Online workshops and trainings do not count as contact hours -- but can be logged as non-contact hours (per Yoga Alliance regulations).
Tuition/Payment: $295 deposit required to hold your space (applied to practicum/mentoring time)
$295 per weekend (you must reserve your space one month in advance)
$2750 if paid in full
The 30 non-contact hours will be completed through homework and assignments. The 300 hours + your 200 will make you a 500-RYT (if you have enough teaching hours you may qualify for 500 E-RYT with Yoga Alliance).


---
200-Hour Teacher Certification 2017-2018
Deepen your experience, understanding, and skill.


Authentically, competently, and confidently teach beginning Yoga.


Meet the 200 hour training requirements for Yoga Alliance Registry.
ONE WEEKEND A MONTH

Fridays 6:00-10:00pm
Saturdays 9:30-6:00pm
Sundays 9:30-6:00pm

Curriculum and Training Dates
note: subject to change due to instructor availability

2017
September 22, 23, 24 Yoga Philosophy
Yoga Philosophy, Raja Yoga: 8 Limbs, Yamas and Niyamas, 5 Koshas, Teaching Relaxation

October 27, 28, 29 Breathing and Meditation
Teaching Breathing Techniques and Meditation

November 17, 18, 19 Anatomy
Bones, Muscles, Fascia, Physiology & Kinesiology

December 8, 9, 10 Ayurveda
The History & Value of Ayurveda, Doshas, Pulse Diagnosis, Herbs, Yogic Cooking, Food Sadhana


2018
January 12, 13, 14 Asana
Teaching Asana, Teaching Methodology, Introduction of the Chakras and Doshas. Practicum

February 9, 10, 11 Asana
Teaching Asana for Specific Conditions, Use of Props, Modifications (variations, benefits, contraindications)

March 9, 10, 11 Chakras
7 Main Chakras and How they Relate to the Science of Psychology and Behavior

April 20, 21, 22 Gita & Sutras
Yoga Sutras and Bhagavad Gita

May 18, 19, 20
The Business of Yoga, Marketing, Ethics, Insurance, Yoga Alliance

Tuition: $260 Deposit (to reserve your spot). 10 payments of $260/month OR $2,400 if paid in full by Sept. 1, 2017. Make payments online below or in person.



300-Hour (500 RYT) Application
300-Hour RYT Registration Application 2017-2018
---
---

200-Hour Application
200-Hour RYT Registration Application 2017-2018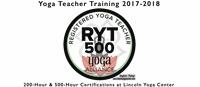 200-HR RYT Teacher Training 2017-2018

with

Lincoln Yoga Center

Team
Fri, Sep 22, 2017 at 4:00 pm - 4:00 pm
Learn More
Online registration is full or unavailable. Please contact us for details.
Restorative Teacher Certification

with

Brittany

Bowdish
Next held on Sat, Oct 7, 2017 at 9:00 am - 6:00 pm
This
enrollment
runs from Sat Oct 7, 2017 - Sun Oct 8, 2017
Learn More